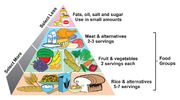 Learning outcomes and Specification reference
Edit
B1.1.1 Keeping Healthy
B1 Lesson 1&2 Healthy Diet
a
Know the right balance of the different foods you need and the right amount of energy.
Evaluate information about the effect of food on health.
Explain how carbohydrates, fats and proteins are used by the body to release energy and to build cells.
State that mineral ions and vitamins are needed in small amounts for healthy functioning of the body.
Full Specification Text
Edit
Starter Activities
Edit
Activities to introduce new ideas
Edit
Activities to practice applying new knowledge
Edit
Practical activities
Edit
Demonstrations
Edit
Class practicals
Edit
References to lessons and resources in commercial schemes
Edit
Nelson Thornes
Edit
Harper Collins
Edit
Longman/Pearson
Edit